Case presentation
This is a 29-year-old female patient, who had a left calf atrophy as a sequela of a "Spina Bifida". She was very self-conscious about the aesthetic appearance of her left leg and its asymmetry compared to the right side. The psychological and social impact on her life was huge, preventing her from wearing specific clothes like skirts, going on holidays or practicing sports.
The asymmetry between the two legs was clearly visible in the front and back views. The patient was very keen on surgical correction. We proposed the augmentation of the left calf posterior two muscle bellies (medial and lateral gastrocnemius) using 3D silicon rubber custom-made implants.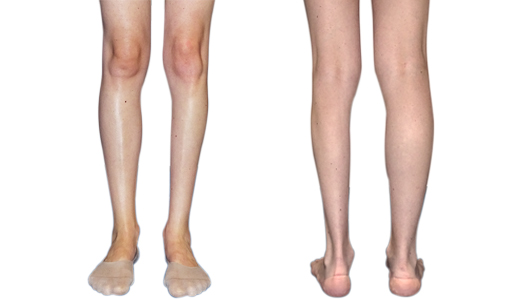 Surgery
Before surgery, the operation site and position of the implants are marked on the leg skin using the prototype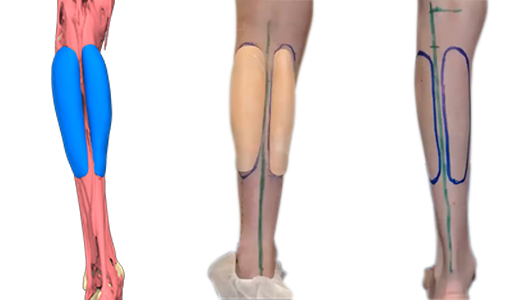 Operation steps
The surgery is done under general anesthesia, with a secure airway in a prone position, with careful protection of the face, eyes and pressure points:
approximatly 3-inche horizontal skin incision is made in the popliteal fossa of the knee,
the aponeurosis of the twin gastrocnemius muscles is exposed on each side and opened,
a pocket is created by detaching the avascular space between the muscle and aponeurosis within the pre-operative skin marks,
the semi-rigid implants are introduced on each side preserving the vertical partition separating the two muscles,
the wound is closed in 3 layers using absorbable sutures (no drains are used),
a leg bandage with moderate compression is applied.
Operation follow-up
The patient gets up with the help of a physiotherapist, walks with a forearm crutch and leave the hospital the same evening under analgesics (paracetamol).
For 8 days, under analgesics, he must wear gentle circular compression and walk or raise legs in sitting or lying positions.
Follow-up consultation 8 days later and three months for resumption o running or calf exercises.
Outcome
Three years after the surgery, the patient stated that her leg was still "fantastic". She is extremely happy with the outcome and got back to numerous activities like going out and wearing skirts and shorts. It has changed her life.
This is a fast and efficient procedure with moderate risks leading to an almost perfect symmetry of the calves. Once healed, the implants are meant to last for a life-time with no risk of rupture, capsular contracture or displacement.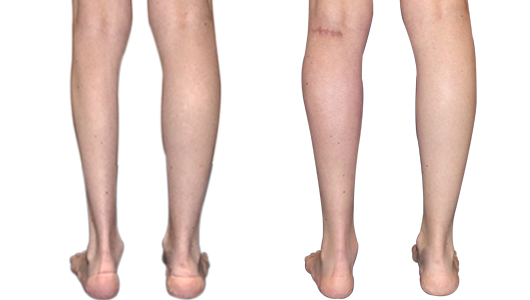 Author
Dr. Omar Tillo is a plastic and reconstructive surgeon practicing in central London in the UK. His work is focused on body contouring and body injury from the head down, using fat transfer for reconstruction as well as implants. He has been using 3D CAD design implants since 2017 to treat mainly Pectus Excavatum, Poland syndrome  and calf atrophies.
He is the medical director of CreoClinic, a specialised plastic surgery clinic, offering expert cosmetic procedures.
Bibliography