Young 19-year-old athletic patient who has persistent deformity of the anterior chest wall: Pectus Excavatum, Type 3, deep and asymmetrical right type.
The patient had already been operated in June 2012 always in the same Pediatric Surgery department (Pr. Messineo) with the technique called MIRPE (minimally invasive repair of pectus excavatum) which consisted in the insertion of a bar and two stabilizers under thoracoscopic guide with two scars at the level of the lower margins of the pectoralis major muscles.
The bar was removed three years later (in September 2015) and the corrective result was judged insufficient by the patient who wanted a complete correction.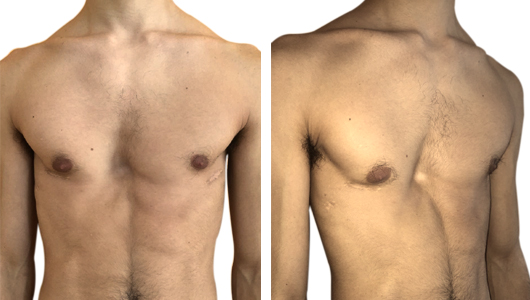 At the clinical and instrumental examination there were no cardio-respiratory symptoms or functional deficits in the lung and heart, however an important thoracic rigidity and a persistent defect were present. Through the CT examination, the residual deformity is clearly shown with a right asymmetry and a Haller index equal to 7.8. Compared to the risk of a second intervention by Nuss and that of a further incomplete result, the surgical team of the Pectus Center offers the family the possibility of an innovative technique that provides for a correction with a 3D custom-made implant in medical-grade silicone elastomer realized through a bioengineered design.
The implant is custom-made with the aid of 3D technologies starting from a simple chest CT scan that allows you to view with extreme precision the deep margins of the patient's chest wall defect.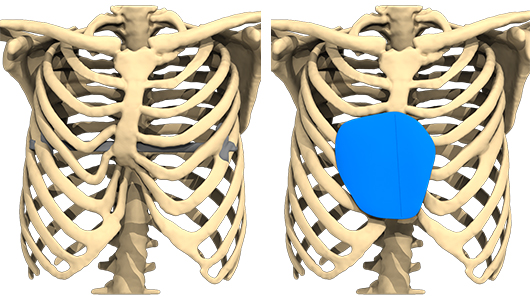 May 2019: surgery under general anesthesia and "one-day surgery" hospitalization Dr Facchini Flavio :
access from a 7-cm pre-incision centrally to the malformation,
medial disconnection of the two pectoralis muscles (PM),
dissection on a retromuscular plane and under aponevrosis of the rectus abdominal muscles (RA) with preservation of the intermuscular septum,
after accurate hemostasis, the implant is folded back on itself and introduced under the retromuscular pocket, it is partially sectioned at the caudal pole to be placed under the fascial plane of the (RA) and on horseback with the septum,
The closure involves the synthesis of the two pectoral muscles (PM), the closure of the subucutaneous plane and an intradermal suture with absorbable thread.
The post-operative is light and not very painful, a blood serum collection can be frequently formed which is aspirated before discharge on the 2nd-3rd day and then in the clinic on the 8th-10th day. The result is amazing and the patient claims to be very satisfied : he will maintain a compressive bodice for one month and abstain from sport for three months.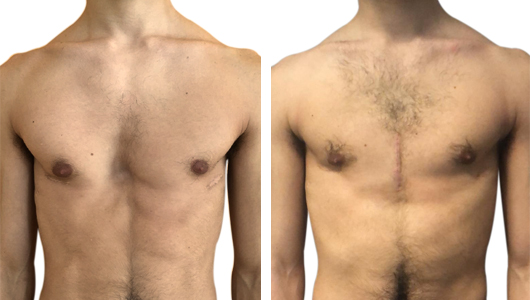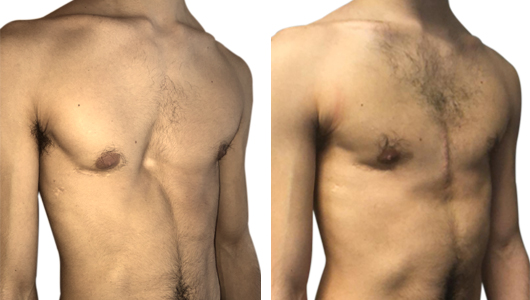 In conclusion, the 3D custom-made implant technique is extremely useful in those secondary cases of asymmetric Pectus Excavatum after a failure or insufficient correction of the orthopedic techniques closed under thoracoscopic guidance (Nuss) or open with exposure of the sternum and section of the cartilages (Ravitch)